In 2014, we witnessed Vainglory's glorious moment as it was unveiled at the Apple iPhone 6 Event. It was a memorable point in time where the idea of eSports on a small device sparked the imagination. There is no doubt that Super Evil Megacorp was a pioneer in the MOBA Genre. Vainglory has remained 3 years strong with eSports events becoming ever larger and more content introduced into the game.
As usual, many developers tried to copy the trend, which was Vainglory's MOBA approach, and attempted to introduce their own versions. Even though, none seemed to be real competitors to what Vainglory delivered to competitive players. There is no question that the road for Vainglory has been without real obstacles in the last 3 years, until now.
Enter Arena of Valor, a new MOBA brought to you by Tencent Games, the world's largest gaming company in terms of revenue. Arena of Valor is based on Chinese culture and historical characters. Surprisingly, it became the world's top grossing title on both, iOS and Android, as of May of 2017. With approximately $84 million in revenue per month in China on iOS alone, the game garnered everyone's attention. Now, Vainglory has a real competitor but is the competition real?
Before we get into in-depth analysis, let us just say that whether you prefer to play Vainglory or Arena of Valor, it comes down to the gameplay style that you like. Our analysis is not meant to be biased towards one or the other. With that said, let us begin.
When it comes to content quality, Vainglory seems to be much more original with its characters, storylines, and skins. For example, you will notice that the different skins created for one character are very different to one another and each is unique in their own right. On the other hand, Arena of Valor in most cases contains skins that look more or less the same and only vary in color. It doesn't seem like a lot of work goes into the skins of Arena of Valor characters, certainly not as much work as what goes into Vainglory characters. However, if you happen to love DC characters then you will enjoy playing Arena of Valor with characters such as Superman and Batman.
This does not necessarily mean Vainglory is the better choice for players, it comes down to more than that. Take in-app purchases for example, pricing of skins is much cheaper in Arena of Valor while it is more expensive in Vainglory. You are more likely to spend less money in Arena of Valor and that can be a more attractive factor to the player if that player doesn't care about the quality of the skins. In both cases, you get what you pay for. The positive aspect about Vainglory's approach is it gives you the opportunity to play and earn skins which can be quite encouraging for players to spend many hours grinding, while Arena of Valor does not provide this option but does gift you skins on occasions.
Cultural differences are deeply rooted in both titles as well. Arena of Valor first started as a game that's meant to represent Chinese culture. It is now trying to capture the western market through new characters and western icons from the DC universe. Vainglory, however, was first developed with the western market in mind, developing characters and culture that attempts to introduce a fantasy world that is popular among the western audience, a genre that was very much incorporated in Greek literature.
The characters themselves can make or break a game. Vainglory has always given life to its characters and as of now there are approximately 37 of them. On the other hand, Arena of Valor delivers more than 50 characters to choose from. The reason that Vainglory has more quality characters is because the developers provide more background stories and spend a lot of quality work into shaping the characteristics of each personality. Super Evil Megacorp releases countless stories regarding their heroes in order to give the player an insight into what kind of character each hero really is. On the other hand, Tencent's Arena of Valor lacks depth in its characters but provides a wide range of heroes to select from.
Furthermore, the user interface appears more simple in Arena of Valor in comparison to Vainglory. This factor is significant when considering the type of player that is playing. When you enter Arena of Valor you have a more simplistic user interface and right at the start get to select your favour modes such as Casual Match, Ranked Match, or Training Camp. That is what players would expect from any game, right? Well, in the case of Vainglory, upon launch it brings to your screen recent offers in the game, eSports news, and the latest developments. This may not be the most attractive thing a new player wants to see when he just wants to start a match because most new players are just looking to have fun. It is fair to say that Arena of Valor would appeal more to new players in this case while Vainglory is more attractive to professional MOBA players.
Gameplay is one of the most important aspect of a game if not the most. Arena of Valor is based on a 5vs5 online battle arena while Vainglory is based on 3vs3. This is soon to change as Vainglory's upcoming update will increase from 3vs3 to 5vs5. Whether they are doing so to compete with Arena of Valor is not something that we can confirm but definitely up for speculation.
Speaking of Gameplay, GameBench has compared frame rate between Arena of Valor and Vainglory with very surprising results. Initially, both games were tested on default settings. Vainglory averaged at 59 fps while Arena of Valor ran at 30 fps on average. The difference in number of players, 3vs3 in comparison to 5vs5, may have been a factor in the difference but this shouldn't cause a 29 fps gap between both MOBAs. In a second attempt to level the playing field, GameBench tested both games on maximum settings but this time using Arena of Valor's smaller maps in order to counter for the difference. This time, Arena of Valor received an average fps of 56 in comparison to Vainglory's 59 fps. Still, Vainglory seemed to provide better frames per second.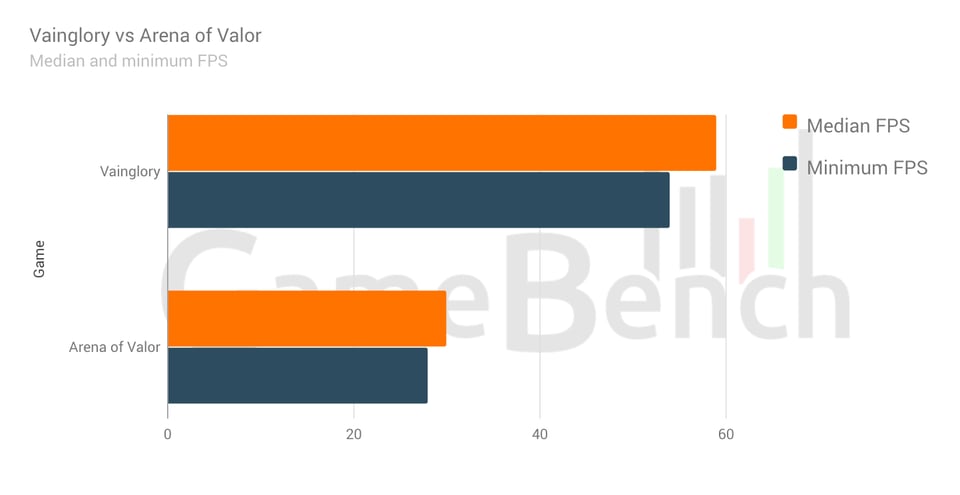 Furthermore, GameBench concluded that in terms of battery consumption, Vainglory drains the battery more than Arena of Valor. While Arena of Valor may provide the players several extra minutes on an Android device in comparison to Vainglory, it can provide a significant hour and a half extra gameplay on devices such as the iPhone 7 Plus. On Average, Arena of Valor saves your device 127 mA in comparison to its competitor.
Communication is a vital aspect of gaming, so how do both fare in this area? During matches, Arena of Valor players have the ability to communicate with each other via chat or voice freely. Vainglory limits the communication aspect and provides a more limited communication system. The argument can be made that you experience less vulgar language on Vainglory and you get less distracted due to the lack of an in-game chat. Essentially, it comes down to what players prefer their MOBA to have.
When comparing the controls system, Arena of Valor has a joystick which allows movement to be more fluid and convenient. Vainglory designed the experience to be more touch-oriented hence their motto "The MOBA Perfected For Touch." The touch experience allows gamers to be more strategic with more effort to be put into achieving accuracy. With these differences we can see that Arena of Valor was developed with casual players in mind while Vainglory was introduced for the eSports competitive players.
Finally, we appreciate both of these games and see the pros and cons in both of them. To answer the title of this article, "Will Arena of Valor Transcend Vainglory?" Our answer might be controversial but we believe that since most of the players on mobile are casual players, Arena of Valor will be more attractive to them than Vainglory. We clearly see the results in terms of revenue and downloads. That is not to say that Vainglory delivers a worse experience, actually Vainglory is built with a high quality engine and clearly has better graphics. If you are a player that is looking for a more in-depth and competitive experience then Vainglory is your title of choice and will entertain you with its originality. However, if you are a casual player like the majority out there, you will find yourself immediately in love with Arena of Valor and its DC world.